Oscar broke his leg badly at Christmas.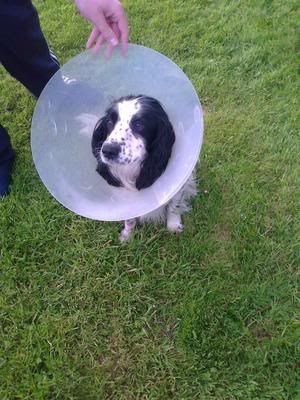 He jumped a wall and fell on ice, has had surgery twice and has been back and forth to the vet since.
Today he was discharged which is great so no more vet bills!
Charlie was neutered last week and so needed to go and have his stitches removed this morning.
Honestly these two cost me more than the kids!
Had a lovely walk with them just mooching around the countryside.
It is raining again but nice soft rain that makes the grass appear so green and the wonderful smells around are a treat to the nose!
~Walked around the garden and noticed that my poor roses are dampened down with raindrops
The hydrangea I planted into a pot last year has "one" flower - just one!!!
and my poor petunias look a little weather beaten.
Here's hoping the sun shines tomorrow.
Happy Saturday.
Today I am joining up with Beverley
on Pink Saturday and also with Today's Flowers
and Flowers on Saturday